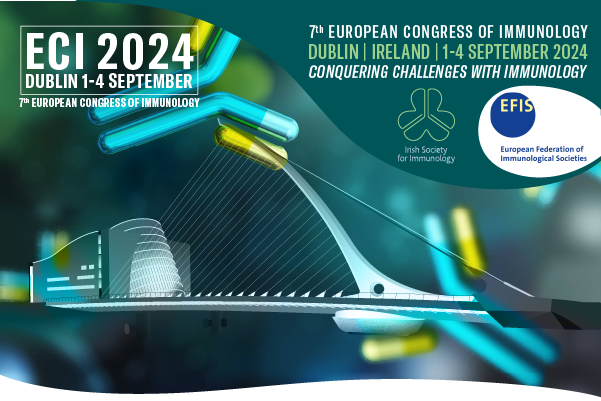 Dear Friends and Colleagues,
As President of the European Federation of Immunological Societies (EFIS), it is my pleasure to extend this invitation to you to join us in Dublin in September 2024 at the Seventh European Congress of Immunology (ECI 2024).
Together with our local hosts, the Irish Society for Immunology, we are working to ensure a stimulating three and one-half days to explore the most recent advances in the fields of innate and adaptive immunity, diseases of the immune system and immune interventions. And whether you have a broad-ranging interest in the multiple facets of modern immunological research, or your focus lies in a particular niche, you will surely come away from ECI 2024 satisfied by the fine balance between basic and applied/translational research contributions that the organisers intend to assemble.
ECI 2024 will also continue the tradition that is central to EFIS' mission, namely, to foster the participation and recognition of Europe's next generation of immunologists at major immunology-themed meetings. And at ECI 2024 early-career scientists will certainly have the chance to take centre-stage on numerous occasions. To stimulate the participation of as many junior investigators as possible, EFIS will be offering no fewer than 250 generous travel grants!
ECI 2024 is beginning to take shape and is committed to respecting its predecessors as "the" showcase for the talents of the European immunology community. I warmly encourage you to mark your calendars and to join us in Dublin to help us conquer challenges with immunology and to make ECI 2024 a resounding and rewarding success.
Sincerely,
Federica Sallusto
President, EFIS