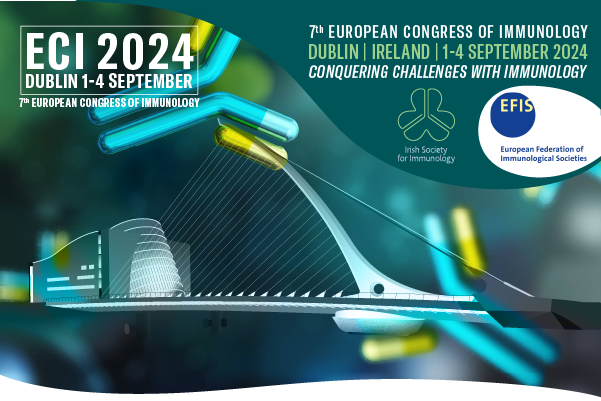 REGISTRATION
Info & Fees
For information about registrations, please contact:
Organising Secretariat

OIC s.r.l
Viale della Giovine Italia, 17 | 50122, Florence – Italy
Tel.: +39 055 50351 | Fax: +39 055 500 1912
E-mail: registrationECI2024@oic.it
Website: www.oic.it
HOW TO REGISTER
Please note that this is the official ECI EFIS website for registrations and that no other websites, companies or agencies are authorised to sell the registrations/ hotel booking in any way or to contact you directly.
Advance registrations are preferred in order to facilitate planning of the scientific sessions and social events of the congress.
On site registration is strongly discouraged and availability for social events might not be guaranteed.
Off-line registrations and requests of pro-forma/ invoices sent by fax or mail are subject to an additional € 30,00 for administration expenses.
INDIVIDUAL REGISTRATIONS:
Participants may proceed with the online reservation system:
GROUP REGISTRATIONS:
Please ask for a group account by contacting OIC at registrationECI2024@oic.it

 Congress Registration Fees VAT included

Early

Within 15th May 2024

Regular

From 16th May to 05th August  2024

Late and Onsite

From 06th August 2024

Members*

€ 520,00
€ 595,00

€ 670,00

Delegates Non-Members

€ 700,00

€ 785,00

€ 860,00

Students** /Technicians/Research Nurses

€ 260,00
€ 295,00

€ 335,00

Day Tickets – EFIS Members

€ 335,00

Day Tickets – Delegates Non-Memebers
 

 

€450,00

Day Tickets – Students /Technicians/Research Nurses
 

 

€185,00

Industry Representative***

€ 900,00
€ 1050,00

€ 1150,00
* Registration fee for members of a national society belonging to EFIS. Be aware if your membership is not updated at the time of your application, the "non-member fee" will be applied.
** Applications for the student fellows/residents registration fee should be certified by a letter from the head of the department, to be uploaded directly to the online registration platform (in PDF format), stating that the applicant is a student fellow/resident at the time of registration.
*** Available to commercial representatives and corporate personnel who have a legitimate educational or business reason for attending, but do not have a sponsorship or product and service to exhibit.
Registration is mandatory for all oral and posters presenters
 Conference registration fees includes:
Admission to all sessions
Congress kit and personal badge
Final programme and abstract book online
Certificate of attendance will be sent by e-mail after the congress
CME kit
Coffee during breaks
Welcome Reception
Admission to the technical exhibition
Registration fee for Industry includes:
Congress kit and personal badge
Admission to the technical exhibition
Admission to scientific sessions
Coffee during breaks
Welcome Reception
VISA Information
Nationals of some countries will need a travel-visa to enter Ireland (and Schengen area).
Participants should contact the Irish Embassy or Consulate in their home country as soon as possible to confirm their travel-visa requirements. It is the sole responsibility of the participant to procure the necessary visa to attend the congress.
Participant should initiate the application process at least 3 months prior to departure. OIC Group is not able to assist participants with their visa application and cannot intervene with Embassies or Consulates on behalf of any participant.
For additional details please visit the following websites:
Irish Department of Foreign Affairs https://www.dfa.ie/travel/visas/visas-for-ireland/
Irish Naturalisation and Immigration Service (INIS) https://www.irishimmigration.ie/
Letter of Invitation (for Visa Application)
Visa invitation letter can be required during the registration process.
Only participants fully registered in the Meeting can obtain a personal invitation letter.
If requested, relevant expenses for hardcopy of the invitation letter sent by express courier must be paid in advance.
Please note that the visa invitation letter only aims to assist participants who need to obtain a visa or permission to attend the Meeting and it is not a commitment from the organizers to cover any kind of expenses or to provide any financial support. All expenses incurred in relation to the conference remain the sole responsibility of the participant.
Terms of Payment
Payment by Credit card: The following credit cards are accepted: American Express, VISA, MasterCard
We would like to inform you that as of 14 September 2019, the SCA (STRONG CUSTOMER AUTHENTICATION) came into effect, in accordance with the provisions of the European Directive on payment services (PSD2).
As an OIC Group customer, your payments will become even more secure.
To get more information about this, please visit our dedicated page available here (link)
Payment by bank transfer are accepted up to the late fee deadline of 20 August 2024.
Cash payment in Euros will be accepted on-site in Dublin.
Bank transfer
(not available for online applications)
Account name
Bank name
Bank Address
IBAN
SWIFT code
OIC srl
Intesa Sanpaolo SpA
Viale Matteotti 20r, 50132 Florence, Italy
IT85 V030 6902 9010 0000 0010 628
BCITITMM
Charges
Bank transfers must not involve charges for the recipient
Important information
Please indicate your name and surname and ECI EFIS 2024 as reference on your payment so that we can identify you for confirmation
Invoices
Invoices with an address in the European Union should be provided with a VAT Number. The invoicing address and VAT number can only be set up during the registration process. Should you have any special requests for the processing of your invoice, kindly let us know when submitting your application.
Off-line registrations and requests of pro-forma invoices sent by e-mail are subject to an additional € 30,00 administration charge
Any modification on VAT number or billing address, requested after the issuing of the invoice incurs a € 30,00 administration charge.
Cancellation and Refunds
Any change or cancellation in connection with registration fees and social events must be made in writing to O.I.C. srl, Fax +39 055 5035230, E-mail: registrationECI2024@oic.it.
For cancellations received by 14th May 2024 the paid amount will be refunded with a deduction of 30% that will be invoiced as penalty
For cancellations received by 05th August 2024 the paid amount will be refunded with a deduction of 70% that will be invoiced as penalty
No refund will be processed for cancellations received after 05th August 2024.
Should a delegate not attend the congress, for whatever reasons, no further claims for reimbursement can be made. All delegates are urged to take personal travel insurance.
Name changes incur a handling fee of € 50 per registration.
Liability disclaimer
In the event of serious special or unforeseen circumstances or serious circumstances beyond its control, OIC shall be entitled to cancel or modify the dates of the event. You shall not be entitled to compensation for any costs or damages incurred as a consequence of such a cancellation or change.
OIC will not be liable for any theft or damage to property and/or persons caused on site during the Congress, by any factor whatever, unless there has been a fault, intent or deliberate recklessness on the part of OIC.
OIC shall not be held responsible in the event of poisoning or food intoxication during the Event.
We strongly advise participants to take a personal "Cancel For Any Reason" insurance with an insura